About Nourish
With Nourish, support teams can plan, record and coordinate support on the go via the Nourish handhelds or their own devices, which can be securely accessed by managers and support workers at anytime. Supporting over 500 support providers across the UK, Nourish is specifically designed to be configurable and tailored to different support environments and personalised to the people you support.
Our customisable and easy-to-use software supports recording at the point of support, saving time and allowing for more accurate notes. Access to live information ensures that managers are kept up-to-date and can make more informed decisions for better support. With records that are secure, accurate and compliant, evidencing support becomes more manageable and less time-consuming. The result? A confident support team and a truly person-centred approach to quality support.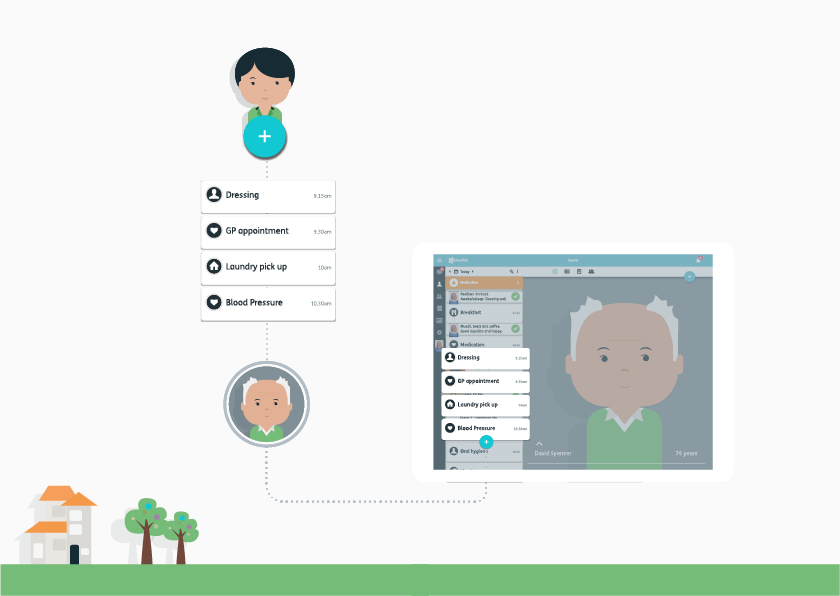 Our Approach
The Nourish system is offered as a comprehensive package. Everyone has their own level of access, from head office and clinical assurance teams, to the managers and support workers of each home. The person receiving the support is always at the core of the process. From the moment you do a pre-admission into a support setting, until the person leaves, the system will intuitively guide you and your team and inform you of that person's needs on a daily, weekly, or monthly basis.
Key Benefits
The Nourish timeline
No two individuals are the same, we all have our own preferences and needs and this goes for the type of support required as well. To ensure support is provided according to the person's own requirements, Nourish timelines are completely customisable at both the individual and organisational level. This way, support teams are aware that two people living in the same residential home may have completely different daily living habits and personal preferences.
Quicker information recording 
The visual of the system speaks for itself, with a beautiful and modern interface that flows and is easy to use; even for those who may struggle with technology. Key features of the app ensures that recording of information is as straightforward as possible.
Drop-downs & checkboxes
Speech-to-text
Quickclose Tags
Photo uploads
Truly personalised support-planning
Nourish offers a powerful way of building your support plans so that you can retain what is unique about your care, rather than being forced to adopt fixed templates. Support notes automatically feed into the support plan, and can prompt the responsible key worker when there are outstanding assessments or reviews to complete. You can attach any file type to each support plan, including spreadsheets and pictures, and can use the clever logs and graphs to track daily, weekly or monthly trends.
Accessible & up-to-date information
With Nourish, all of your information is in one place so that it can accessed by all those who need the information, whenever they need it. Specific features focus on supporting better access to useful information such as the body maps that allow you to provide safer skincare management and assessments that automatically calculate for you (i.e. MUST).
At the heart of Nourish we also maintain an alert system that allows the team to raise concerns and ensures that all who provide support are kept updated with changes. Warnings can be created manually – using the amber and red warning bells – or can be automated for important tasks. For example, if support plan reviews are overdue or fluid targets are not being met.
Better visibility & evidencing of your care provision
Bespoke reports can be viewed on any and all information within Nourish. This can be viewed in various formats, including:
Web-pages for quick review
PDF documents to share externally
Excel spreadsheets for
In-depth analysis.
With our internal dashboards, managers have better visibility of the support service; so that you can see the type and amount of warnings your support teams are raising and have an overview of the support plans within your service.
Better communication in your team
Seamless communication across the team is essential throughout the support service; to continuity and quality of support, to align all members of your team and to ensure your service runs as smoothly and efficiently as possible. We believe in encouraging transparency and clear communication at all levels and key features in our system allow you to facilitate this within your team, and within the wider circle of care.
Dedicated ongoing support
Live Chat Support: Support is 24/7, so should be its support. From support workers to managers, anyone can use the live chat support to ask any questions and we will promptly help you with any query.
Account Management: We understand how unpredictable things can be, so we always appoint a dedicated Account Manager who will personally help you with anything with any problems you may face.
Experience Monitoring:  A system is only as good as its adoption and input. We therefore remotely monitor usage and give you a quick call if we notice a considerable drop in usage or if we notice you are not using a useful feature which could be helpful for you.
Continuous Development: Nourish will never be a finished product, and will continually adapt and evolve as the needs of the care sector develop. We thrive to stay innovative and listen to every single user, providing relevant updates and new features on a monthly basis.
What CQC Say
The CQC have inspected most of the services where Nourish currently in use and the rating for all providers that have used Nourish for over 12 month has either been Good or Outstanding. Providers have also used Nourish to satisfy reporting for Contract Monitoring Teams, the Care Inspectorate and NHS Clinical Assurances Teams.