.






Millennium Support and Co-Production
What is Co-Production?
Co-production is a practice in the delivery of public services in which citizens are involved in the creation of public policies and services. It is contrasted with a transaction-based method of service delivery in which citizens are not only consulted, but are part of the conception, design, steering, and management of services.
This is our model of co-production below. The important aspects are the arrows coming in signify how we will ensure citizens are part of conception of the design etc as identified above. The way we then transfer this into strategy and delivery is important aspect to ensure that we are working together to achieve this.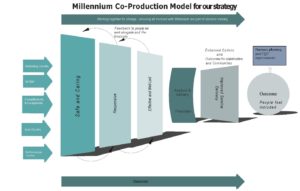 If we think about the service transformation and designing new model in co-production terms the following occurred,
Phase 1 (Oct 18 to Dec 18)
A consultation began last October 17 with families and people we support and stakeholders asking what they would like to see in future delivery. This was a series of facilitated meetings and notes taken.
This process was managed by a consultant to ensure non bias. During the consultation, the consultant approached the outcome of delivering a capable environment via a co-productive model.
Phase 2 (Dec 18 to Feb 19) 
The results of the stakeholder feedback were then collated and shared, and it clearly identified that they needed someone with a background in change management to take this forward.
Phase 3 (Feb 19 to Sept 19) 
The results of the consultation from last Oct was used to set about structuring a new model. This was initially produced in draft form,  and the result was to design something based on the feedback and external horizon scanning. The original plan and model design  where then re formatted and checked and based on information gathered. This was tested with small groups to 'check back' on validity of information.
We then as a result of this process started to think about realizing the model and began liaison with builders, planners, quantity surveyors etc via a project group.
Although I took the lead on this process, I was mindful that it needed to be co-produced and designed collaboratively. So, I formulated the MCS co-production model; based on my previous experience as I had designed a similar model in other areas of my work and the theory of co-production. This was developed/tested further with some key stakeholders.
Phase 3 (Sept 19) 
Once the service and co-production model was designed and written, the next step was to dip sample the model with stakeholders, including commissioners.  We choose Wakefield and Leeds PH leads to do this with. Any feedback was then written into the further design.
Phase 4 (Oct 19 ) 
The final parts of the design and development phase was completed with all managers and advocacy groups, and any refinements made. We then held an all managers meeting to launch this and encouraged participation of each part of the model; this resulted in  a separate project group for each quadrant which I will coordinate, but not lead. This will be led by front line managers and a person we support is also on these groups. Although this event was planned and facilitated by me in conjunction with a range of internal stakeholders; it was important to get buy in so I will not lead the groups.
Phase 5 (Sept 19 to Dec 19) 
We needed the process to be shared throughout the organisation so running concurrently with this was a review of our strategic aims. This again has been co-produced to ensure buy in. These are now written into our 3 years strategy.
Phase 6 (Dec 20 on wards) 
The small separate project groups will meet with a specific aim to develop each part of the model. This will be project managed by me, but each group lead will produce their own Gannt chart and action plans.
Co-Production training.
As part of the Co-Production groups, we were asked to develop some training materials to ensure that people understood what we were trying to do. This is now an e Learning module.
Please see downloads for our Co-Production training
Feedback from Co-Production groups
Dec 20
Does Co-Production work at Millennium?
Information was gathered from a group of people across the organisation asking about their experience of co-production. This included people we support, families and people we employ from all across the organisation.
Please see downloads for our Co-Production feedback presentation.
These are the words used,

We agreed that the Margaret close group (Known previously as Knottingley) and the supported living group has fulfilled its brief of shaping and formulating the future direction of the service delivery and is now business as usual; this is what co production is all about and it is amazing to see and feel it in action in Millennium.
We agreed that the Community hub group will continue in their brief to shape and formulate the delivery and that the group is about halfway into achieving their goal. We look forward to the new shape of the community hub and regular updates. Can you thank all the group members for their continued support and on-going hard work and achievements to date?
Next steps Jan 20
We discussed continuing working in this way, and I asked that you consider future co-production projects and you listed potential projects. We are conscious that you cannot achieve all these simultaneously. Please be assured though we will introduce all the projects in the next eighteen months. This will be taken to the voice network to agree what are the most important projects and in which order.  We also asked that managers nominate themselves or one of their team to lead. This can also be internal and external people and we would really like to see a mix of interested parties including people we employ across the organisation, people we support and families, professionals etc.
What is inclusion?
Inclusion, is an all-encompassing practice via an organisation to  ensure that people of differing abilities are included and we have considered their needs and the grouping that they belong to.
An example of this is in our equality and diversity strand within the business and advocacy groups etc to ensure that we are always listening to views and changing practice accordingly.
We need to ensure that everyone we support are actively engaged in, and are actively connected to the goals and objectives of the whole wider society, as opposed to being labelled as "Other" amongst a "typically developed" individual. When we talk about community inclusion this is what we mean. Being an active citizen in the communities that people live in rather than segregated and this will e demonstrated via the model that we are developing.